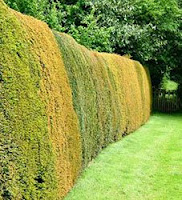 One of the most sought after gardening services in London is hedge trimming and we are grateful that hundreds of customers are choosing us to transform their hedges.
For us, the relationship with the client is important and we are happy with the fact that we receive positive feedback for our hedge trimming service. This encourages us to continue to maintain the quality of our service to enjoy more satisfied customers.
Our experienced and trained employees will take care of your hedge at a pretty good price. Take advantage of our hedge trimming service by contacting us.
Take advantage of our Hedge Trimming services by giving us a call on 020 3475 5442! We promise not to let you down!
See what our customers have to say about us:
Thanks to you I have the garden I always wanted!
Prompt, affordable and professional hedge trimming services. Exactly what I needed!
I have no words to express how impressed I was with your hedge trimming service. Thank you!
Services
Basic Gardening

£

45/h

Lawn Mowing

£

45/h

Hedge Trimming

£

45/h
Are you sick and tired of looking at the wild, uncut hedges in your garden? We know that most people are way too busy to properly take care of their gardens so we would like to offer our services. We can help you with maintaining the neat condition of your garden – we are a renowned company which offers its clients many gardening services, including hedge trimming. Unkempt and overgrown hedges may not only look unpleasant but also cause some issues in your garden. If they are too big and you have not trimmed them in a while, they might begin blocking the sun and cause bald spots or dullness to your lawn and plants. Prevent this from happening by taking advantage of our hedge trimming service.
Hedge trimming is the process of cutting and removing dead and overgrown branches. It is done to allow new growth and make hedges look tidy and beautiful. New hedges require more attention and care especially in their first two years. In order to achieve the shape and type of hedge you want, regular maintenance is a must.
We cut all kinds of hedges in all kinds of shapes. It is important to know when it is best to trim your hedges since different species require a different approach. Springtime, for example, can be a tricky time since most birds are nesting then. Trimming your hedges in this period might destroy bird nests, stress the birds or even leave baby birds with no parents. Most common hedges need trimming twice a year and we suggest this is performed in late February and late August.
Hedge Trimming Team and Equipment
We owe our success to our team of devoted and hardworking employees who always do their best to meet our client's expectations. We provide our workers with modern equipment and materials which help them perform in the best, most efficient way possible.
They will come fully equipped with everything that might be needed for the trimming of your hedges. The process is quite simple and depending on the size of your hedge will take no more than 3-4 hours. The technicians always start trimming your hedge from the bottom to the top and do it in the best way possible. They know how to trim your hedges in order to help their growth, increase the sunlight penetration to all their parts and maintain them beautiful and healthy.
Hedges are great to plant to enjoy attractive outdoor spaces, create privacy and buffer noise in the neighbourhood. There are many hedge types and a lot of plants that can be used as hedges. We are able to come trim your:
Buxus
Murraya
Lilly Pilly
Viburnums
Azaleas
Indian Hawthorn and many others
Apart from the traditional hedge trimming, we are able to incorporate any hedge design in your garden. Here are the most common hedge jobs that we create:
Garden Frames- This is a common landscaping technique that can result in amazing designs. It will help create a clean and tidy look for your garden.
Living Fences- Hedges can be planted and shaped as lining fences in order to separate the structural part of your house from your landscape or garden.
Hedge Mazes- The complexity and mystery of a hedge maze design will definitely grab everyone's attention.
Vertical Gardens- Also called wall gardens, they will provide an elegant, sleek look for your garden.
If you need to know more about our hedge trimming service and other services we offer, you can contact our support staff – they will answer your questions and provide you with the information you want. Our representatives are very polite and would gladly take their time to introduce you to the essence of our hedge trimming.
Benefits from working with us:
We are available every day of the week, including all holidays
No contract signing needed
Affordable prices – we always make sure to fit our customer's budget
Professional attitude and personal attention
Quick and efficient hedge trimming procedures
Trained and dedicated gardeners
Top of the line gardening equipment and tools
Two payment methods – cash given to the gardeners after the completion of the job or bank transfer made no later than 24 hours before the appointment
No hidden charges (the only charge may be for a parking spot as we require customers to cover it)
Transparent terms and conditions
Hedge Trimming Prices
Bellow you can find our actual price list. If you manage to find any better prices, let us try to beat them.
We are available for you 7 days a week, 365 a year. Just give us a call on 020 3475 5442!
Our special May offer of 10% off of regular prices applies to all our services. Give us a call for additional information
PROFESSIONAL GARDENING SERVICES
Hedge & Bush Trimming (Team of Two)

£

45/h

Lawn Mowing & Weeding (Team of Two)

£

45/h

Tree Trimming (Team of Two)

£

45/h

Cutting Large Bush (Team of Two)

£

45/h
Book Your Gardener Now!
Give us a call at 020 3475 5442 or fill the form bellow

Waste no time and give us a call. We will take care of your hedges and help you achieve the clean, tidy look of your garden that you have always dreamed of.