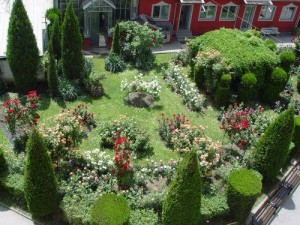 Our company – Gardeners London- has been in the gardening business for many years and we have managed to gather some of the most reliable and experienced gardeners in the London area – each one of them has been professionally-trained, thoroughly checked and personally interviewed. That way we are sure that they are reliable and dedicated employees who will do their best to maintain our flawless reputation.
We know that most people nowadays are way too busy to maintain their gardens in the condition they would like them to be in. It is also important to have the correct skills and tools when taking on a gardening job. We are happy to tell you that you do not have to worry about that anymore. We are Gardeners London and we are here to offer you our exclusive Gardening services.
We employ the best professionals in the area. They are all very experienced and able to handle any job without hesitation. Whatever it is that you need to get done in your garden, we will be able to help you with it.
Let us take professional care of your garden. Just give us a call at 020 3475 5442 now!
Thanks to you I have the garden I always wanted!
Prompt and quality services. Exactly what I was looking for!
Your gardening services are simply priceless. Thank you for all the help!
Services
Basic Gardening

£

45/h

Lawn Mowing

£

45/h

Hedge Trimming

£

45/h
Most of our clients that book this service are regulars. We visit them on a regular basis and maintain their gardens in perfect condition. Here are the most common jobs we perform:
Lawn Mowing and Care– Maintaining your lawn healthy and good looking is an important task. However, it is also far from an easy one. Regular maintenance is needed, as well as special care if you are experiencing any issues with your grass.
Weeding – If weeds are starting to overtake your garden, something must be done. We are able to rid you of all stubborn, parasitic plants. This will improve the looks of your garden and will allow all other plants to grow healthy and happy.
Hedge and Bush Trimming– Your bushes and hedges need trimming once in a while. Whenever they become overgrown they may prevent the sun from penetrating further into your garden and what is more – their health might be affected.
Weed Control– In order to keep your plants healthy, you must remove all other weeds. We use professional, extremely powerful products that will achieve perfect results. Your garden will be completely free of unwanted weeds.
Tree surgery and Removal– Dead, broken or diseased branches may be extremely dangerous. This however, is not a job that anyone can do. Avoid risking your health and causing more damage and let our professionals come do the job in a safe, efficient and professional manner.
Garden Clearance– Gardens need a good clean after every winter. Fallen branches, leaves, grass etc. take up most of the space and prevent you from enjoying your neat and tidy garden. Let us get rid of those and help you out.
Turfing– If you are eager to have fresh, green and beautiful grass at an instant, turfing is the perfect solution to your problem. We can come install real or fake grass in your garden at any given time. Do not hesitate.
Fertilising and Overseeding– If the soil in your garden is not as fertile as you would like it to be, give us a call. We will aerate it, fertilise it and overseed it in order to help your plants grow healthy and beautiful.
If you want to have the most beautiful and well-maintained garden in your neighbourhood, you should book our professional gardening services. We, at Gardeners London, are one of the most popular companies when it comes to gardening and we assure you that our workers can meet the requirements of the pickiest clients.
Our technicians will come on site and discuss the whole project with you. Anything that you want to do with your garden can become reality with their help. Do not hesitate and give us a call.
Full range of professional gardening services:
We offer many gardening services which can be tailored according to the needs and budget of our client.
You'll be glad to hear that our gardening services are one of the most affordable in London and no other company can meet our quality.
We owe our success to our hard-working and devoted workers who do whatever they can to satisfy the needs of our clients. They are background-checked and trained to high standards.
We guarantee that our workers will do their job in a quick and professional manner.
The work hours of our gardeners are very flexible, so you shouldn't worry if your schedule is busy – we'll find a way to visit you at a time & date convenient for you.
Our customer care support is excellent and our representatives will be more than happy to assist. You can feel free to ask anything regarding the gardening procedures.
There are two payment methods – cash and bank transfer. Please note that we require customers to make the transfer no later than 24 hours before the appointment. Cash is given to the gardeners after completion of the job.
We have no hidden charges. The only charge that may appear is the one for a parking spot as it is the customer's responsibility to provide or pay for such.
The equipment our gardeners make use of is top of the line and provided by us.
We are available 7 days a week.
Professional Gardening Prices
Bellow you can find our actual price list. If you manage to find any better prices let us try to beat them.
We are available for you 7 days a week, 365 a year. Just give us a call at 020 3475 5442!
Our special May offer of 10% off of regular prices applies to all our services. Give us a call for additional information
PROFESSIONAL GARDENING SERVICES
Hedge & Bush Trimming (Team of Two)

£

45/h

Lawn Mowing & Weeding (Team of Two)

£

45/h

Tree Trimming (Team of Two)

£

45/h

Cutting Large Bush (Team of Two)

£

45/h
We specialise in:
Professional Gardening
Hedge Trimming
Lawn Mowing
Jet Washing (pressure washing of patios and driveways)
Gutter Cleaning (full removal of leaves and debris from gutters)
Book Your Gardener Now!
Give us a call at 020 3475 5442 or fill the form bellow

Call our office agents now and receive a free quote over the phone. They will answer any questions you might have and help you book a service.